Bizet's most famous Opera.
Carmen was the last of Bizet's Operas, and the last work he completed Even though it was repeated 44 times after the premier, until June, Bizet was convinced it was a flop. 
He actually wasn't at all that famous as a composer, not even after his death. Much like Mozart he didn't become the Maestro of Music that he is today, until the beginning of the 20th century. His second most famous Opera Les pêcheurs de perles, The Pearl Fishers was mostly forgotten until 1916, when it performed at the Metropolitan, New York with Enrico Caruso as Nadir.
The premier of Carmen also suffered problems with the production team and members of the cast. One of the two producers resigned because of the immoral subject. Both the orchestra and the chorus complained about passages that were impossible to execute. The chorus-singers also weren't used to having to act as individuals and refused. And there were constant confrontations about how to smoothen the delicate subject and iniquitous story-line. The theatre even proposed a ballet at the end to sweeten the stabbing-scene somewhat. Luckily Bizet didn't buy that. .
Premiere – 1875, March 3, Opera-Comique, Paris, France
Composer – George Bizet
Librettist – Henri Meilhac

,

Ludovic Halévy, 
Running Time – From 2 hours and 20 minutes till 2 hours and 50 minutes, plus intervals
Four Acts 
Overture – 4 minutes
Act 1 – 40 – 50 minutes
Act 2 – 39 – 45 minutes
Act 3 – 35 – 41 minutes
Act 4 – 20 – 21 minutes
In French
Main characters
Carmen – Mezzo Soprano – Without future and without past. She lives in the present, seduces anyone who resists her, and flees anyone who wants her. 
Don Josè – Lyric-Dramatic Tenor

(A little darker and heavier than a Lyric Tenor).

Young soldier.
Micaèla – Lyric Soprano.  Don Josè's girlfriend.
Escamillo – Lyric/Dramatic Baritone.

(Needs to be a full, dark voice, but with good height. Often you will have to compromise between these requirements.)

A Famous Bullfighter. 
Frasquita

and

Mercèdes. – Sopranos.  Carmen's friends.

Just a quick note. These are often sung by Mezzo Sopranos, especially Mercèdes. That is all well. The only thing that's important here is that they have a lighter voice than Carmen. Carmen should be the darkest of the female voices. 
Based on the short story Carmen by Prosper Mérimées
Download this short Pdf-guide. Print it, fold it, and keep it in your pocket as a help when you're at the Opera. Please keep your phone turned off when inside the theater.
Background – The Opera Carmen is set in…
Sevilla, Spain.
Second and third Acts are outside the city. The time is the 1820s. Spain was quite a turbulent country at the time with constant conflicts, wars, and civil wars. The French had previously seized power and occupied most of southern Spain but were thrown out in 1812. 
 Seville was an important trading town. It's on the main route from Cadiz, and Gibraltar towards the big cities in the north, and smuggling has always been a main enterprise. 
It's also a melting pot with great influences from both north and south, from Europe and Africa.
Would you like to visit Seville?
Would you like to see the sites where the Opera takes place? 
Plot
Ouverture.
First Act – The Square in Seville
It's hot and sunny. Soldiers are supposed to patrol the square to keep order. But patrolling is tiresome when there's no wind and the heat is tropical. A girl walks by and the soldiers notice her. She's looking for something or somebody. 
Corporal Moralès (Baritone) asks her and she says that she's looking for a Brigadier. The soldiers and Morales are all quite forward and pushy, but Micaèla, as she's called, is only interested in one particular Brigadier, Don Josè. She escapes the men. 
There's the change of guards. During this, there's a very famous child chorus, where the children imitate the soldiers. Avec la garde montante, nous arrivons, nous voilà.
The new chief of the guards is Don Josè, and Moralès tells him that a girl has been there, searching for him. Josè immediately recognizes her as Micaèla, his fiance as well as an orphan, taken care of by his mother. He has known her all his life and intends to marry her. 
Josè and  Zuniga (Bass), the new lieutenant, talk about the big building in the square, and Josè says it's a big Cigar-factory, with hundreds of women rolling cigars from morning to evening. 
The Bell rings and the Square slowly fills up with all the women from the factory. The Women's Choir sings and then the Men's Choir but the star of the show is Carmen. She's the most beautiful and most elusive of the women. Every man in Seville is secretly in love with her. 
She sings the first of her three famous arias, L'Habanera, L'amour est un oiseau rebelle… (Love is a rebellious bird, that none can tame…). In the end, she throws a cassia flower at the feet of Don Josè. He's confused.
Now there's a light, melodic duet with Josè and Micaèla. She brings him a letter from his mother up north, in which she practically asks him to propose to Micaèla. He will do so, for his mother, but also because he really loves her.
Micaèla walks away but promises to be back for the answer to the letter.  
There's a riot!
The women from the cigar-factory are screaming, and Zuniga comes rushing to the Square. Two groups of women sing a kind of duel. They fight and sing and it's all very chaotic. Josè and two soldiers go inside the building, while the soldiers in the square try to bring order among the hysterical women.
Josè comes out again with the two soldiers holding Carmen between them. He explains to his superior that in the complete chaos the only thing he could make out was that Carmen and another girl had started fighting, and Carmen had cut a cross in the other girl's face. 
After some discussion, during which Carmen shows her rebellious spirit, she's sentenced to jail. And Josè is going to take her there. 
During the dialogue that follows (Often cut or shortened), we come to know that Carmen too is from the north, from the region Navarra, just like Josè. In the short story by Mérimées , one of the reasons why they get along is that they both see something of their origins in the other. Carmen says that the Gypsies had brought her to Seville but that she's not a Gypsy at all. She's from the village of Etxalar.
And here's the second of Carmen's arias La Seguidilla. In it, she invites him to the tavern of Lillas Pastia. She also says that she doesn't care for other men but just one and that if he would love her, she would love him. Josè can't resist her temptations, and after having told her to be quiet several times, at the end of the Act, he frees her. 
Second Act – The Tavern of Lilla Pastia on the outskirts of Paris
Soldiers, gypsies, and all kinds of questionable individuals gather. Zuniga drinks with his friends. Carmen sings her third aria together with Frasquita (Soprano) and Mercèdes (Soprano), La Chanson bohème. It starts out as background music, but soon Carmen and her two friends are dancing on the tables. 
Zuniga tells Carmen that Josè has spent one month in prison, because of her, but that he was released today.
Escamillo, the famous Bull-fighter enters. He sings his aria Votre toast, je peux vous le rendre. (One of the maybe three most famous opera arias of all time.) In it, he describes the danger, his courage, and the triumphant victory at the end of every fight. He's a mega-star, and everybody loves him. He too tries his luck with Carmen, but she turns him down. 
The Tavern has to close, and everybody walks away. Zuniga tells Carmen that he will be back. 
When everybody's out, Dancaire (Baritone), Remendado (Tenor), Fransquita, Mercèdes, and Carmen sing the smuggler-quintet. (This is a very tricky piece. It's rhythmical and high tempo and it can also include lots of movement.) These five characters are the smuggler-band, and Dancaire, the boss, has a plan for that evening. Carmen says she can't come as she's waiting for a soldier. 
Josè enters the Tavern where Carmen is waiting for him. She dances for him seductively but when he hears the Bugles from the Barracks sounding the retreat, he knows he has to leave. Carmen gets very upset. She was going to give herself to him, and he just up and walk away because of a trumpet. 
They quarrel, Josè pulls out the Cassia flower from the first act, and sings his only real aria in the opera, The Flower song, explaining how much he loves her. 
The role of Josè should be sung by a dark semi-dramatic tenor. But his only aria is soft, tender, and imploring. The last B flat should be very delicate, a diminuendo ending in a pianissimo. Many darker tenors just can't do that and they sing it in full voice.
His song doesn't help though. She says she hates him, and just as he's about to walk away forever, there's a knock on the door. Zuniga has come back. Josè's jealousy ignites a fight between them. Carmen calls for help and all the gypsies arrive.
In the original version, four gypsies with guns simply kick Zuniga out of the Tavern. This would have been enough for Josè probably facing court-martial. Many modern productions let Josè kill Zuniga, and sometimes it's even Dancaire and Remendado who kill him. Zuniga actually has a few lines to sing in the fourth act, but they can easily be cut out. 
Josè now has no other option than to join the smugglers. The Act ends with a big choir glorifying the free, wandering life unders the open sky.
Third Act – In the Mountains.
Some time has passed. If it was obvious already in the 2nd act that Carmen isn't enthusiastic about having Josè as a lover, now it's written all over. Josè talks about his mother and Carmen immediately takes the opportunity to try and convince him to leave them and return to her.
Carmen, Frasquita and Mercèdes sing a trio. They do what Gypsies do… They tell the future in the cards. But, while Frasquita and Mercèdes pick cards of love and money Carmen only gets the card of death. 
Dancaire is ready to move on. The whole ensemble sings a smuggler song. Josè is sent to guard the merchandise and the three girls are supposed to take care of the customs officials with their beauty and seductive abilities. 
Micaèla wanders alone in the mountains, searching for Josè. She sings her only aria Je dis, que rien ne m'épouvante. (I say that nothing frightens me) (Difficult, but when sung well, it's one of the most beautiful arias for a lyric soprano)
Escamillo approaches Josè at his post. Escamillo asks about Carmen. He's there to see her. Not recognizing Josè, he says Carmen was together with a soldier, but she dumped him and she is now free and available. They fight and sing a duet at a high tempo. When Escamillo falls it's Carmen who stops the hand of José. Carmen has saved his life and Escamillo is ready to compensate her for it.
Dancaire sends away Escamillo, who before he leaves invites everybody to the Bull-fights in Seville. 
The tension between Carmen and Josè is palpable. 
And now, to add even more confusion to the set, Micaèla enters. She tries to convince Josè to come back with her, and to Carmen, that's an excellent idea..
   –   Go away… Go with her! You don't belong here anyway, she tells him. 
But Josè refuses. He answers her: 
   –   I'm bond with you. You are mine till the death. Even if it shall cost me my life, I will not leave you…
 but when Micaèla tells him, his mother is dying, he agrees to follow her. 
   –   But we shall meet again, is his last phrase.
Fourth Act – Outside the bullring in Seville.
This is an ingenious location. In the background, we see the wall of the bullring with the doors leading into the arena.
The crowd is cheering and singing out their admiration for the characters of the bull-fight, the banderilleros, the picadors, and of course the matador, Escamillo. As people walk in (offstage) to take their seats, Carmen and Escamillo have a short duet. Carmen says she's never loved anybody as she loves him. 
There's a very short scene where Frasquita and Mercèdes tell Carmen that Josè has been spotted close by and that she should be careful. She answers that she's not afraid.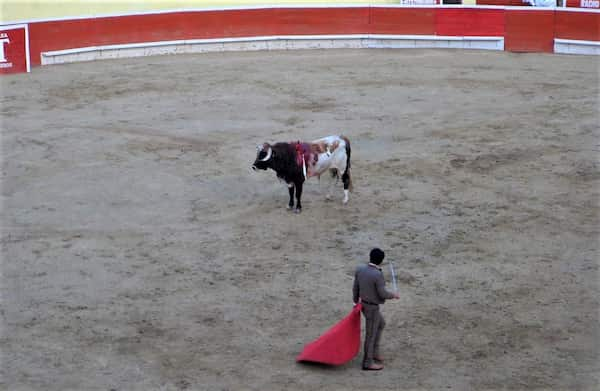 When everybody has entered the bullring and the bullfight can start, only Carmen and Josè are left outside. 
The last duet is divided into various parts. Their dialogue is interrupted by the chorus singing off stage cheering and acclaiming Escamillo.
Josè tells her that he loves her, and she says she doesn't. This topic is repeated in three musically different passages. Each time Josè is more desperate. Carmen says:
   –   I know you will kill me, but it doesn't change anything. Between us, it's over…Free I was born, and free I shall die.
When the crowd shouts. Escamillo!, Escamillo!, Josè understands that he is Carmen's new lover. He asks her about it, but she won't answer. When he asks her again she admits. 
   –   Yes, I love him, and in the face of death itself, I will say it… I love him.
She tries to get past him, but he blocks the way. 
   –   I don't want to threaten you anymore, Josè sings.
   –   Then stab me , or let me pass.
Carmen takes off the ring that Josè had given to her and throws it at his feet. The crowd is cheering. Josè closes in on her, and as the doors open and the people are filling the square outside the bullring, Carmen's lifeless body lies on the ground. Josè kneeling beside her in tears.
   –   Arrest me. I was the one who killed her!
   –   Ah! Carmen! My adored Carmen!
Things to look out for.
Carmen is the most popular and one of maybe two or three most played operas of all time. And, it's not just me to argue that. Objectively, it has more musical highlights than any other Opera. And it's actually so jam-packed that looking out for things becomes ridiculous. You just have to stay tuned in from the first chord until the last. Having said that here are a few even higher lights among the highlight:
First Act
20 minutes Habanera  Carmen
40 – 45 minutes  Seguidilla  Carmen
Second Act
2 minutes  La Chanson Bohème 

Carmen

8 minutes The Toreador Song 

Escamillo
Immediately after and when everybody, but Carmen's friends, has left the stage  The smuggler's quintet  Carmen, Frasquita, Mercèdes, Daincaire, and Remendado. Check if they're on the beat. This is a difficult piece. 
27 – 30 minutes  La Fleur que tu m'avais jetée

The flower song

 Don Josè
The End of the Act, when everybody has come on stage again. Lookout for who's killing Zuniga. Is it Josè, Carmen's friends, or is he left alive?
Third Act
The Act begins with a beautiful orchestra-intro with a solo flute. After that, there's an Ensemble, a dialogue between Josè and Carmen and at…
8 minutes  The Card Trio Carmen, Frasquita, and Mecèdes.
20 – 23 minutes  Je dis, que rien ne m'épouvante… Micaèla's Aria.
Fourth Act
The Act begins with a great ensemble where the men and women in the choir sing out their enthusiasm for the Bull-fighting, and the courageous men who participate in it  i.e. Escamillo.
11 minutes  C'est toi !  C'est moi !

It's you… It's me! The duel between

Josè

and

Carmen

starts.

Something about the performance tradition.
Carmen is written as an Opera Comique. It's a lighter, French style, where the dialogue is spoken rather than sung. The old Italian operas were divided into recitatives, choir, and aria. The recitatives were the part where you talk, but, in the Italian tradition, these parts were sung, only they were sung in a more talkative style, with just a cembalo to accompany. Carmen instead has spoken dialogue and the singers actually talk. 
Some of the spoken parts are often omitted. Many directors feel they interrupt the flow of the music and just cut them out. In a non-French-speaking country that could seem logical. But it's a bit like reading every second page in a book.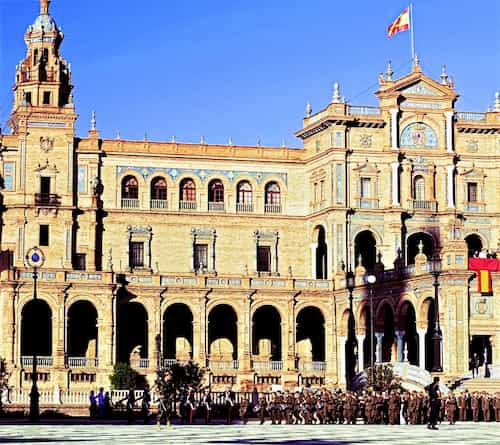 Bizet died shortly after the first-ever premiere of his masterpiece. And when the Vienna court Opera was to perform it, there had to be recitatives instead of spoken dialogue. So, Bizet's friend and colleague, Ernest Guiraud rewrote the Opera. He also included a ballet. 
This, together with the normal habit of cutting and rearranging, has created many different versions. Some things in this Synopsis below will be lost in many productions.
Today, there can be spoken dialogue, recitatives, or a mix between them – a hybrid version. The most common is to play it as Bizet first intended, with spoken dialogue.
Fun Facts
The critics weren't impressed after the opening night, neither was the audience, although the house was full and it played on for several months. Mostly because the main character was a simple gypsy, outlaw, and seductress. But also the music was criticized. The lack of melody, as some critics complained about, is something very strange to the ears of today, No Opera has so many evergreens, and no character has so many songs that are famous far outside the opera world as Carmen. Bizet was convinced the opera was a failure, until his death. He died three months after the premiere.
Three colleagues were in the audience, Camille Saint-Saëns, Jules Massenet,  and Charles Gounod. Saint-Saëns and Massenet were both overwhelmed, while Gounod accused Bizet for plagiarism. "…If you take out some of the Spanish melodies, and my own music, all that remains is the sauce that masks the fish."
Célestine Galli-Marié, the very first Carmen, suffered a strange collapse in the third Act on the evening of June 2, 1875. At the beginning of the Act, when the three gypsy-girls lay their cards, and Carmen only gets the symbol for death, Cèlestine suddenly stopped singing, looking straight ahead with a terrible expression. Shortly after she fell to the floor. George Bizet died that same night.
New productions involve new strategies. At Teatro Maggio Musicale Fiorentino, Florence, Italy in 2018, the director decided to change the outcome and had Carmen kill Josè instead of the other way around.
Download this short Pdf-guide. Print it, fold it, and keep it in your pocket as a help when you're at the Opera. Please keep your phone turned off when inside the theater.