An opera with a strange voice combination.
The basic idea is very simple. Two young men make a bet on the faithfulness of their respective women. And of course, they lose. Thus the title. "Cosi fan tutte" means roughly "They all do that", but with the female gender so that it becomes evident that we are talking about women, not necessarily men. That was an accepted presumption back in the 18th century.
The combination of the voices of the two couples is unorthodox. Today we don't think much of it, but the 1700s average listener indeed would detect the unbalance immediately, the tenor together with the mezzo-soprano, and the baritone with the soprano. So, when Don Alfonso proposes to have the two men change partners, it all falls into place… 
Premiere – January 26, 1790, Burgtheater, Vienna, Austria
Composer – Wolfgang Amadeus Mozart
Librettist – Lorenzo da Ponte
Running Time – 3 hours, more or less, plus Intervals.
Two Acts 
Ouverture – 4 minutes
Act 1 – 1 hour 30 minutes
Act 2 – 1 hour 30 minutes
As is often the case with older operas, the time can vary quite a bit. The conductor always makes cuts and abbreviations. 
In Italian
Main characters
Fiordiligi – Soprano. Lady from Ferrara, now living in Naples. Dorabella's sister.
Dorabella – Soprano (Mezzo Soprano). Lady from Ferrara, now living in Naples. Fiordiligi's sister.
Guglielmo – Bass (Baritone). Officer. Fiordiligi's fiancè. 
Ferrando – Tenor. Officer. Dorabella's fiancè.
Don Alfonso – Bass (Baritone). Philisofer.
Despina – Soprano. Fiordiligi's and Dorabella's maid.
Dorabella is labeled soprano and Guglielmo, bass, but that's just because the intermediate labels didn't exist back then, although Guglielmo is sometimes sung by Bass-baritones. Dorabella should be notably darker than Fiordiligi so that we understand the underlying implication. 
Loosely based on Metamorphoses by the Roman poet Ovid, and La Grotta di Trofonio by Antonio Salieri (An opera that premiered only a few years earlier at the same theater in Vienna). 
Download this short Pdf-guide. Print it, fold it, and keep it in your pocket as a help when you're at the Opera. Please keep your phone turned off when inside the theater.
Background – The Opera Cosi fan Tutte is set in…
Naples, Italy.
Mozart doesn't use the southern Italian metropolis for anything special. The story is universal and can be played out anywhere. Naples was at the time one of the biggest cities in Europe, about double the size of Vienna. It was also, at least in the eyes of Mozart, some sort of artistic paradise, where all the highest and noblest ardor in music and poetry filled the salons, theaters, and concert halls.
The girls are from a less impressive geographical origin, they're from Ferrara. That should maybe have you believe that their virtues are more untouched by the big city and the modern lifestyle. That is not the case though.
Would you like to visit Naples?
Would you like to see the sites where the Opera takes place? 
Plot
Ouverture
First Act, first scene – A coffee house in Naples.
 – La mia Dorabella capace non è… (… Just as faithful as she is beautiful.)
With the opening trio, we are catapulted into the situation. The two young men are absolutely confident about their girlfriends. So, when their old friend Don Alfonso proposes to put them to the test they gladly accept. 
The bet consists of the two young men having to do all Don Alfonso asks of them for 24 hours. If their fincès remain faithful, Alfonso must pay 100 zecchini, a whole lot of money.
First Act, second scene – A garden overlooking the sea.
The two sisters are looking at a painting, singing the duet:
 – Ah, guarda, sorella… (… What fire in his eyes! … What a flame of both warrior and lover.)
Mozart immediately put the two women in a dubious light. Don Alfonso enters with the immensely sad news. 
 – Guglielmo and Ferrando must submit to the newly arrived royal order. They are called to war.
The girls are devastated and their goodbye is heartbreaking. But Mozart puts in a small but maestoso march sung by the chorus, for comic effect. Fiordiligi and Dorabella implores them:
 – You'll write every day? … Twice a day? 
Of course, they'll write. They are not going anywhere, as it's all a part of the bet… The scene finishes with a little jewel. Fiordiligi, Dorabella, and Don Alfonso sing the beautiful trio:
 – Soave sia il vento…
Then Don Alfonso explains some of his life philosophy. Remember he is a philosopher:
 – He who puts his hope in the heart of a woman, plows in the sea and sows on the sand.
First Act, third scene – Inside the two sister's house.
Now we are introduced to another of the key players of the story, Despina. She is a servant, much like Susanna in The Marriage of Figaro. She is also smart enough to outwit both the men and her two employers. And just like Susanna, she acts as something of a director who, together with Don Alfonso, guides the prank.
Anyway, Despina's ethics isn't very different from that of Don Alfonso. To her, having lost two men to the armed forces just opens the possibility to conquer all the other males out there. She sings the aria:
 – In uomini, in soldati… (… The quivering leaves have more stability than men.)
Now, since Alfonso realizes that Despina is too clever to be fooled, he needs her in on it. So, he bribes her, but she's actually quite willing, as she doesn't mind a good practical joke. And she would very much like to teach her pompous employers a lesson. So the two accomplices introduce Guglielmo and Ferrando disguised as two Albanese officers. The idea is to change couples… Ferrando is to court Firodiligi, and Guglielmo, Dorabella. But the women are furious and want the intruders out of there immediately. Fiordiligi sings her stoic aria…
 – Come scoglio immoto resta… (Like the rock remains firm…)
Now, obviously, the young men are very satisfied. They have proven the faithfulness of their girlfriends. But they can't cash in just yet. They still have to obey Don Alfonso's directives until tomorrow morning. 
And so Ferrando sings one of the most divine of all of Mozart's many melodies:
 – Un aura amorosa… 
This is a pure love song, with no comic or satiric color whatsoever. Although the libretto is mostly funny, Mozart inserts serious music every now and then. The ensemble Soave sia il vento when the two men are called to war is another example. It is as if Mozart wants to explain that although it's a comedy, some things are important. Love is such a thing, and so is war, life, and death.
Well, Despina'a and Don Alfonso's first attempt didn't work. But they have more aces up their sleeves. Despina reassures the philosopher that she will make the women fall in love before morning. She sings:
 – What is love? It is pleasure, comfort, joy, fun, happiness… It is no longer love if it becomes uncomfortable.
First Act, fourth scene – In the garden.
The two Albenese officers are back. This time they want to take poison because of the unanswered love. There is a long scene with the two men dying and the women trying to figure out what to do. 
Fortunately, the physician arrives promptly (… Which is none less than Despina dressed up in doctor's clothing.) She cures them instantly, and she does it with the help of a magnet… A mesmeric stone.
Mozart was actually a personal friend of Franz Anton Mesmer the inventor of the so-called Mesmerism. This was, though never recognized by the scientific community, still an important movement at the time. 
Magically the Albanese youngsters wake up again. Though the girls' defenses are still up, they are significantly weaker. But when the two officers ask for a kiss… One simple kiss to help them get better, Once again, the women declare their stoic resistance.
The finale is intricate. It is very well written. But it's difficult to sing as well as to conduct as it is very fast. Especially Fiordiligi has to be extraordinary if the result is to be perfect. 
 – Dammi Un Bacio, O Mio Tesoro… (Giv me a kiss, darling…)
Second Act, first part – A room. 
Despina rebukes the ladies and tells them they should take advantage of the situation. She says: 
 – Let them come back!
 – And then what do we do…?
 – … You decide… You're made out of flesh and bone, aren't you?
And here's another jewel. Despina sings:
 – Una donna a quindici anni… (A woman a fifteen must already know where the devil has its tail… She must know how to ensnare lovers and give out hope to all, but like a queen on her lofty throne, chose in her own way.)
And we witness the fall. Dorabella is the more eager of the two. They decide to let the men back in and blame it all on Despina if someone should notice anything. Then they divide the prey… Guglielmo for Dorabella, and Ferrando for Fiordiligi.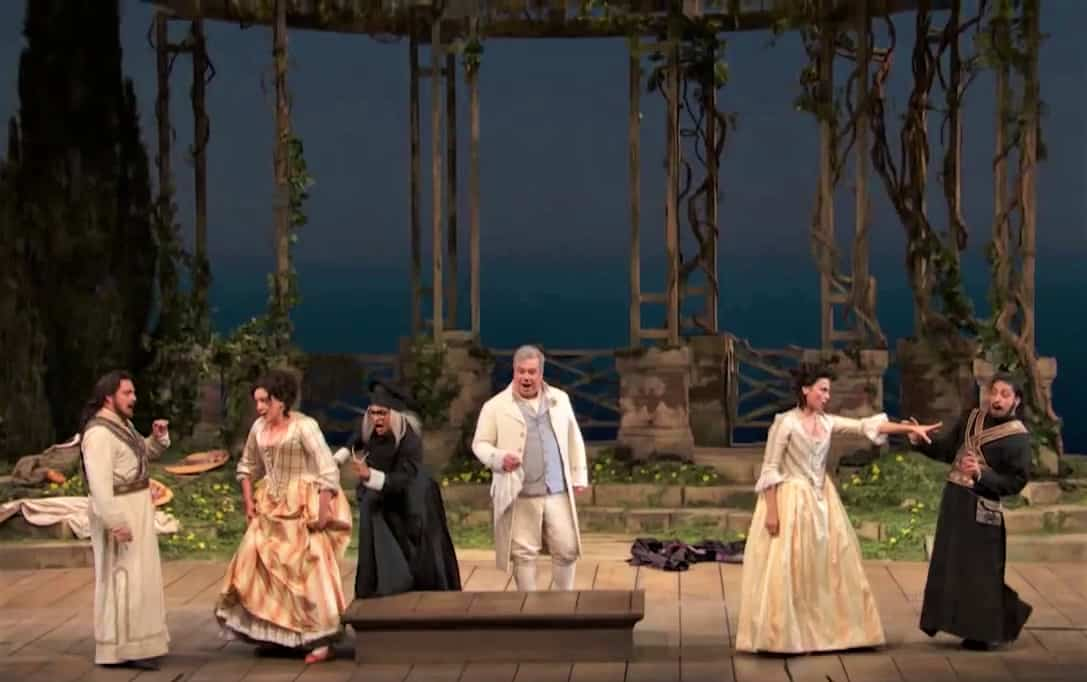 Second Act, second part – A garden overlooking the sea.
In the garden, Guglielmo and Ferrando have organized a serenade by musicians and the chorus, flowers, and presents… (Maybe they should have tried that at the beginning instead of just drinking poison and asking for kisses…) The girls are melting.
There's a long scene where the girls are slowly heating up, with the help of Alfonso and Despina, who are doing the actual courting. And with the same rate as Fiordiligi and Dorabella are getting more available, the boys start to doubt the outcome. Fiordiligi takes Ferrando's arm and asks:
 – Walk with me?
And that leaves Guglielmo alone with Dorabella. They sing:
 – Il core vi dono. (… My own heart is no longer mine… )
Compare this duet to the famous La ci darem la mano in Don Giovanni.
They leave while Guglielmo mutters to himself…
 – Poor Ferrando… It seems impossible…
And now it's Ferrando's and Fiordiligi's turn. She, who was the more resistant of the two, is showing cracks in the defenses. Still, she manages to overlook her pumping heart and send him away. Ferrando has an aria here but it's often omitted. After that Fiordiligi expresses her inner struggle in the beautiful aria:
 – Per pietà, ben mio, perdona. (In pity's name, my dearest, forgive… Dear heart, your trust deserved a better reward!)
She leaves and Guglielmo and Ferrando enter. The two gamblers compare their success rate. Fiordiligi is a saint. She hasn't given in. But Dorabella unfortunately isn't as faithful. Ferrando is devastated. They both complain about the unfaithfulness of women. Guglielmo sings his second and most famous aria:
 – Donne mie, la fate a tanti… (… But thus you treat so many… And if your lovers complain they have good reason.)
Still, without breaking the moral code of the 18th century, maybe you should have thought about this before you yourself started courting other women…
Ferrando sings his second aria:
 – Tradito. Schernito…
Don Alfonso enters and Guglielmo wants his 50 zecchini as Dorabella has remained faithful. Alfonso reminds him that they are still under his command until morning. 
Second Act, third part – Another room.
Fiordiligi confesses to the other women that she's in love, and not only with Guglielmo. But she is terribly tormented by guilt. Dorabella and Despina tell her to just give in. Their previous lovers could even be killed, and should they come back the ladies would be happily married and far away. Fiordiligi asks how it's possible to change one's heart in just one day…?
 – What a stupid question, answers Dorabella… We are women.
Is this a typical Mozartian ideology? Probably yes. Though he likely wouldn't see it as a moral dilemma. And he probably wouldn't judge too much. His worldview was surely quite pragmatic, and unfaithfulness is flourishing among all sexes. As will be evident in the end.
Dorabella sings her second aria expressing the benefit of having a light heart:
 – È amore un ladroncello. (Love is a thief…)
In her desperation, Fiordiligi decides to dress like a man, a soldier, and reach their two lovers at the front. She will risk her life for her love of Guglielmo. Unfortunately… Or fortunately, Ferrando reaches her and declares his love once again. But this time Fiordiligi can't resist and she finally declares her love for the Albanese officer.
What's left to do for the two poor scoundrels?
Of course, one solution would be to marry the women. Don Alfonso proposes just that as a solution to their troubles. Since they still love the two girls, why not exploit the momentum and organize a double wedding? Alfonso sings the short aria:
 – Tutti acusan le done… (Everyone blames the women… But I say, the lover who's been deceived should blame not others than his own mistake.)
And the aria ends with Don Alfonso, Guglielmo, and Ferrando together singing:
 – Cosi fan Tutte! (They all do that!)
Second Act, fourth part – A hall prepared for the wedding.
So, they get married. It's just that the notary is non-other than Despina once again in disguise. And when they've signed the contract, the chorus is heard from outside singing the same melody as at the beginning of the first act:
 – Bella vita militar…
The boys have returned. The Albanese officers escape, and Guglielmo and Ferrando return from service (… that lasted only one day!). They reprimand their fiancès but then everything gets clarified, and the six main characters join in the common moral of the story:
 –  Happy is the man who looks at everything from the right perspective. If the storm hits, he would still be at peace…
What to look out for.
These timestamps are very approximate. Cosi fan Tutte is highly subject to variations.
First act.
26 minutes – Soave il vento… The tragic farewell. Trio Don Alfonso, Dorabella, and Fiordiligi
38 minuti – In Uomini in soldati… Despina's first aria. 
50 minutes – Come scoglio immoto resta. Fiordiligi's steadfast faithfulness-aria.
60 minutes. Un aura amorosa. Ferrando's first aria.
1 hour 20 minutes. Despina (dressed as a Physician) cures the poisoned Albanese officials with a magnetic stone.
After that, there's the difficult uptempo finale.
Second act.
3 minutes . Una donna a quindici anni. Despina's second aria.
11 minutes – The two Albanese officials return with flowers and music… 
21 minutes – Il core vi dono. Guglielmo and Dorabella sing the duet. 
28 minutes – Ei parte… Senti!…/Per pietà, ben mio, perdona. Fiordiligi's second aria.
40 minutes – Donne mie la fate a tanti. Guglielmo's aria about unfaithfulness among women.
52 minutes . L'amore è un ladroncello. Dorabella's second aria.
1 hour – Fiordiligi gives in.
1 hour 10 minutes – Cosi fan Tutte. Don Alfonso, Guglielmo, and Ferrando finally agree about the moral in love.
1 hour 20 minutes – Bella vita militar! From off-stage, the chorus announces the return of the fiencès. 
Something about the writing of Cosi fan Tutte.
The opera didn't have the same success as its forerunners. Historians have blamed this at least partly on the licentious subject. It is said that Mozart's rival Antonio Salieri actually started the project but abandoned it after the first trios. (Is it possible to hear some of Salieri's musical language in "La mia Dorabella…" ?)
It is also said that even Mozart at the beginning thought the subject was too immoral. That didn't stop him from completing it though. 
Some ten years earlier Salieri had written one of his most loved operas, La scuola de' gelosi – The school for the jealous. It is interesting how Mozart puts a subtitle for his opera… La scuola degli amanti  – The school for lovers. 
Anyway, my own very personal view is that the reason for its minor success has a lot to do with the storyline. Compared to The Marriage of Figaro, Don Giovanni, and obviously the fabulous Magic Flute, this opera just isn't as interesting. The plot is somewhat stationary. Already at the bet in the first act, we have a hint of where this is going. And there are no turning points, no additional characters are introduced, and nothing surprising happens… ever… from start to finish.
Of course, the timing was bad (as seemed to be the rule for Mozart…). His benefactor Joseph II died after a period of illness and depression, less than a month after the premiere. That shortened the number of performances.
The ongoing Austrian-Ottoman war led to a devastated economy, food riots, and astronomical inflation in Vienna.
The French revolution was in full bloom at the beginning of 1790. 
The geniality of the greatest composer of all time shines through though. And if you can overlook that somewhat boring action on stage, the music is as perfect as it could ever be. This is a mature and accomplished Mozart… Composed less than a year before his much too early death. 
Download this short Pdf-guide. Print it, fold it, and keep it in your pocket as a help when you're at the Opera. Please keep your phone turned off when inside the theater.