La Cenerentola – Cinderella. Rossini's opera is a candy bag of musical fireworks. We all know the story. Young girl being forced to serve as a maid in her own home. Her family is cruel and treats her like a servant. But along comes a Prince and with the help of a fairy (…in Rossini's opera he's an old philosopher) she wins his heart. 
Rossini was in a period of intense productivity, but even so, he managed to create a wonderful musical event that spread like wildfire after the premiere. Today La Cenerentola is his second most-played opera after The Barber of Seville. For many years the situation was reversed though. 
Premiere – January 25, 1817, Teatro Argentina, Rome, Italy 
Composer – Gioachino Rossini
Librettist – Jacopo Ferretti
Running Time – ca. 2 hours and 38 minutes, plus Intervals
Two Acts
Ouverture – 8 minutes
Act 1 – 1 hour and 30 
Act 2 – 60 minutes
As always in traditional number-operas, these time frames are flexible.
In Italian
Main characters
Angelina (Cenerentola) – Coloratura Mezzo-soprano.
Don Magnifico – Baron of Montefiascone. Angelina's "stepfather". Bass.
Tisbe – Angelina's "stepsister". Mezzo-soprano.
Clorinda – Angelina's other "stepsister". Soprano.
Don Ramiro – Prince of Salerno. Light tenor.
Alidoro – The Prince's tutor. Philosopher. Bass.
Dandini – The Prince's valet. Baritone.
Download this short Pdf-guide. Print it, fold it, and keep it in your pocket as a help when you're at the Opera. Please keep your phone turned off when inside the theater. 
La Cenerentola vs Cinderella.
Ferretti and Rossini used Cendrillon by Charles Perrault as a foundation, although the basic story can be found all over the world, and as far back in time as before the common era.
If you have seen the Disney animated version from 1950, a few things are different here. The choices were made to better fit the comic opera niche. It was also important to minimize any risk of being censored or, even worse, banned. The moral police of the Roman Catholic church was a powerful opponent to any composer with ideas.
La Cenerentola by Rossini
There is no shoe. This was a censor thing. Trying out a shoe on stage is complicated. There was also a chance that when lifting the dress to free the foot, something of the lady's bare leg could be seen. And that was much too risky. In Rossini's Cinderella story, there is a bracelet. 
The bracelet isn't left behind by accident. It is given to Ramires with Angelina instructing him to find her. It's kind of a test.
There is no stepmother… And no mother figure in sight. The arrogant and abusive parent is the father, Don Magnifico. The reason for this is that it was easier to make a grumpy old man into a funny character.  
The Prince is in disguise most of the time. The whole love argument is made up by Dandini acting as the Prince and thus getting all the attention from the sisters. This creates more entertaining situations and funny situations. Compare this to The barber of Seville.
The role of the Fairy Godmother is taken on by Alidoro, the Prince's old tutor. He is the director and, although not magical, still runs the show. Again, compare to Figaro in The Barber of Seville.
Disney's and other's Cinderella
Cinderella drops her shoe while escaping from the ball. The Prince then has to travel far and wide to find the girl whose foot fits perfectly into the shoe.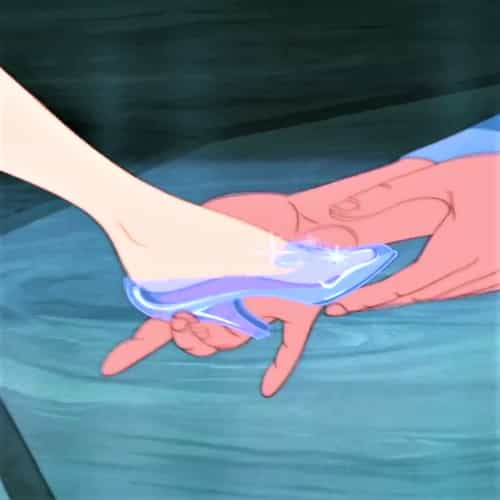 Cinderella's widowed father marries again when Cinderella is very young. The stepmother is the bad guy in the story.
The Prince always shows himself in full splendor. 
Cinderella is aided by a magic Fairy Godmother. 
Would you like to visit Italy?
Would you like to see the sites where the Opera could have been set? 
Plot
Overture
First Act
The rather worn-down castle of Don Magnifico.
In Don Magnifico's residence, the two ill-mannered and thoughtless sisters order poor Angelina around. She sings a sad melody:
 – Una volta c'era un re… (Once upon a time there was a King bored with being alone…)
Alidoro, the Prince's tutor, enters disguised as a beggar. (He is there to spy on the young women for the Prince.)The two sisters disgustedly tell him to leave the premises, while Angelina of course shows mercy and offers him coffee and bread. Soon there's another knock on the door and  20, 30 messengers (the male chorus) announce the Prince's arrival. He shall choose a bride!
 – O figlie amabili di Don Magnifico… 
They all leave and Don Magnifico presents himself, relating to a dream he just had (… of daughters married to wealthy men and giving him lots of grandchildren.).
 – Miei rampolli femminini… 
Obviously, he's very happy and optimistic when he hears about the imminent arrival of the Prince.
 – Daughters, keep your wits about you, speak in semicolons, and think about dressing well!
They leave.
The Prince enters disguised as his servant. (He too is there to check out the daughters.) Angelina and he meet and, of course, they fall in love. 
When asked who she is, she gets confused, a bit by the excitement but some because she is actually quite confused about her origins. If you are well-versed in Italian or you're just observant, you might perceive Angelina saying:
 – Father – Not father… And my mother was their mother too…
The arrival of the Prince of Salerno.
This is quite a funny scene. Dandini, Don Ramiro's servant is disguised as the Prince. He sings an aria with all the exaggerated extravaganza that characterizes a make-believe royalty:
 –  Come un'ape ne' giorni d'aprile… (Like a bee in the days of April…)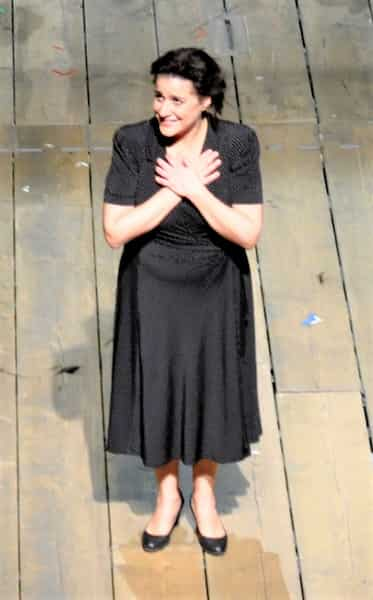 Dandini continues to act with great pleasure. He speaks in homemade Latin, and he exaggerates in compliments. At a certain point, Ferretti has him declaring 11 rhymes in one sentence. 
So, he invites all of the to the castle, and there, he will choose his bride. Angelina begs Magnifico to let her come along…
 – Just one hour… Half an hour? … A quarter? 
But Alidoro comes back (… now dressed like a gentleman) with a big book.
 – Here in my register, it says THREE daughters…
Magnifico denies it and claims the third one died. He definitely doesn't want Angelina to come along. The scene ends with a beautiful ensemble, a quintet, with the three basses singing an accompaniment and the two lovebirds, Cenerentola, and Ramiro singing a legato line on top.
 – Nel volto estatico…
In Angelina's chamber.
Here Disney makes the Fairy Godmother shoot some magic and turn a pumpkin into a coach, four mice into horses, and a horse into a coachman. Ferretti manages to create some magic of his own by having Alidoro appear in beggar clothes again. From there he can say:
– E se dubiti ancor, mira chi sono! (If you still have doubts, then watch who I really am!)
And he comes forth dressed as a nobleman, well, as a philosopher. And he proceeds with his big aria:
 – Là del ciel nell'arcano profondo… (Beyond the sky in the deep arcane… )
There is a possibility that they could use Agolini's version "Vasto teatro è il mondo". That piece is more modest and mediocre and doesn't give Alidoro the same magical aura.
At Prince Ramiro's palace.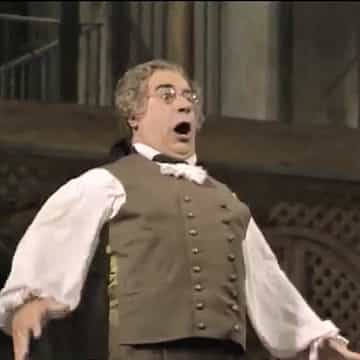 While the two sisters desperately trying to attract the "Prince's" attention, Don Magnifico is pointing his attention to the wine cellar. And we have a little jewel in the form of a chorus with Magnifico:
 – Conciossiacosacché…
The Prince has nominated Magnifico as head wine attendant. As such and after thoroughly controlling the quality of the barrels, he decided to write a royal decree… It is now severely prohibited to dilute wine with water.
Now, Don Ramiro and Dandini invent a new trick. One of the sisters will marry the Prince, while the other will have the servant. Again Tisbe and Clorinda demonstrate their shallow personalities. 
Suddenly Alidoro introduces Angelina incognito. She covers her face with a veil. Everybody is curious about the marvelous lady. Then she unveils her face. But although Don Magnifico recognizes her, his daughters are still uncertain. And so is Ramiro. The act finishes with a typical Rossini finale:
 – Mi par d'essere sognando… (I'm afraid my dream will go up in smoke…)
… Because everybody has something to lose. They are all afraid their dreams will vanish.
Second Act
… Still at the palace.
Alone with his daughters, Don Magnifico right out confesses he's cheated Angelina of her heritage. Then he sings the aria:
 – Sia qualunque delle figlie… 
This is a difficult piece even if you're a Rossinian expert. For that reason, it is sometimes omitted. If it's not, you'll know what I mean when you hear it. It's like a thousand words in three minutes. 
Now, Angelina declares her love for the Servant (…who is the real Prince). He in turn does the same, and so everybody's happy…? Not yet. And this is the point where the shoe should come in. But instead of footwear, Angelina gives her bracelet to Don Ramiro and says he must find her and she will have its equal on her left wrist. And so, Ramiro together with the ever-present male chorus sings:
 – Si, ritrovarla io giuro! (I promise to find her!)
This aria is divided into three parts and the tenor needs a good high C which he needs to produce several times. If he has a good high D even better. 
Don Magnifico and Dandini sing a duet:
 – Un segreto d'importanza… (an important secret… I am masked, and now I go back to my old job… I am Dandini the servant.)
Back at Don Magnifico's place…
All four contemplate what's happened. Angelina is in love, and The others are mostly mad for being played for fools. Outside a storm is building up… Which is very fortunate because Prince Ramiro accidentally is forced to seek shelter right at Magnifico's castle. The orchestra plays a short interlude.
The Prince and Dandini enter. It's really just to take shelter for a few moments before help arrives from the palace. When Cenerentola is called for she recognizes the prince… And Ramiro has found his lost veiled girl. They sing a wonderful sextet that is very interesting. The music is staccato and quite simple but Ferretti's text is a  tongue-twister.
 – Questo è un nodo avviluppato…
Cinderella's family continues their insults, but Ramiro defends his choice. Then he threatens Magnifico, Tisbe, and Clorinda with his fury if they don't keep silent. The scene finishes with another ensemble… A Stretta with rhythmical cries by the two sisters…
 – Quello brontola e borbotta…
Here, there could be an aria by Clorinda full of self-pity and remorse, Sventurata mi credea… It is rather difficult and it's often cut because it somehow interrupts the flow. 
Alidoro comes in and rebukes the sisters for their behavior, telling them they should ask for forgiveness:
 – This is the moment!
Again, we're at Don Ramiro's palace.
The finale is rather straightforward. Angelina, with her good heart, and her firm positive beliefs, forgives her family. She sings.
 – Nacqui all'affanno, al pianto… 
The finale is fast a furious worthy of a Rossini masterpiece like La Cenerentola. Angelina should excel in her last incredibly difficult and equilibristic coloraturas. 
Things to look out for
First Act
Overture. It's the same as the overture for La Gazetta, Rossini's opera from the year before. Often used as a stand-alone orchestra piece.
12 minutes – I miei femminini… Don Magnifico's big entrance.
19 minutes – Don Ramiro enters disguised as his servant. 
31 minutes – Dandini, the fake Prince enters. Come un'ape ne' giorni d'aprile… follows.
45 minutes – Alidoro enters and starts asking about the third daughter.
47 minutes – Nel volto estatico… Dandini begins what will develop into a great quintet.
55 minutes – Là del ciel nell'arcano profondo… Alidoro's big aria. Check if it's that one or if it's Agolini's original Vasto teatro è il mondo…
1 hour 4 minutes – Conciossiacosacché… Don Magnifico's wine-drinking aria with chorus.
1 hour 17 minutes – Angelina arrives at the palace.
1 hour 27 minutes – Mi par d'essere sognando… The final uptempo ensemble. Normally they all position themselves and stand still, more or less.
Second Act
2 minutes – Sia qualunque delle figlie… Don Magnifico's rapid-fire aria. Sometimes left out.
10 minutes – Si, ritrovarla io giuro! Don Ramiro's big aria.
20 minutes – Un segreto d'importanza… Dandini's aria during which he revealed his true identity.
30 minutes – The storm.
34 minutes – Questo è un nodo avviluppato… The tounge-twisterrrr sextet.
46 minutes – Possibly Clorinda's aria, Sventurata mi credea…
52-55 minutes – The finale, with Angelina's fireworks-coloraturas. 
The voices in La Cenerentola.
Singing La Cenerentola is not quite like singing Il Barbiere. Here you need more specialized voices. The score is fast and with lots of steps and scales up and down. Normal opera singers could find themselves fighting a loosing battle against the spectacular Rossini coloraturas. While in Il Barbiere di Sevilla at least some of the roles can be sung by rather normal singers, here you need specialists.
Angelina herself was for many years almost impossible to cast. A coloratura mezzo-soprano wasn't conceivable. Nowadays there are such voices, of which many are specialized in this repertoire.
Don Magnifico is what you would call in Italy, Basso buffo. That is a comical type. He should be a very good interpreter though as many of the comical situations in the opera are firmly held up by him. 
Dandini could be a somewhat lighter voice. If he is a little lighter than you would imagine for the tessitura (medium note frequency and range) of the score, that would still be ok. Especially in the first aria which is very pompous, Rossini surely had the idea that the voice isn't really up to it on the low notes. He is too lightweight a man to act as a Prince.
Alidoro has no coloratura. It's a normal lyric bass.
Don Ramiro compared to Almaviva in Il Barbiere di Sevilla needs to be more agile, and with stunning heights. 
The two sisters are comic roles unless Clorinda's last aria isn't omitted. In that case, she needs to be a very capable coloratura soprano.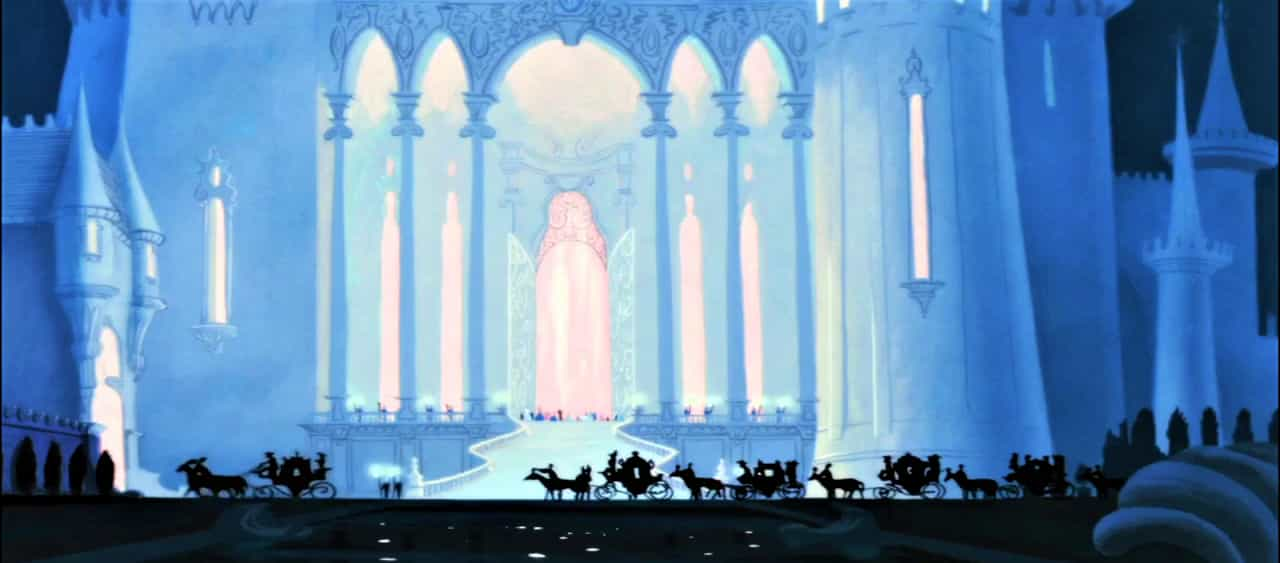 How to write a two and a half hours opera in three weeks.
Rossini was a very productive composer. At least during the first half of his life. He wrote a huge amount of operas, directed, promoted, traveled, and managed to eat and drink like a King in between. He was a Gourmand and he never missed a chance to try what the local, best kitchens had to offer. 
Anyway, he wrote La Cenerentola in just three weeks, and it premiered on January 25, 1817, less than one year after his huge success The Barber of Seville. And between those two masterpieces, he was able to complete two other operas, the comedy La Gazzetta, and the more serious Otello. 
So, how on earth did he manage to work with such frenzy? First of all, that kind of productivity wasn't unheard of in those days. Puccini, who I would argue is one of the greatest opera composers who ever lived, wrote 10 operas during 40 years of writing… Wagner wrote 13 in 50 years. Compare that to Händel's 44, Vivaldi's around 50, and Mozart's 22 in a much shorter life span. The difference is that these composers lived earlier.
In Rossini's days, the demand for originality wasn't as great as later on. In fact, he borrowed abundantly, mostly from himself. In La Cenerentola, there are parts from both La Gazzetta and The Barber of Seville. And he used assistants to write the more tedious stuff… Like the secco-recitativos (Singin in a talkative manner with only a harpsichord and possibly a cello). Those follow a rather strict form and can be composed without necessarily a unique artistic talent. 
Furthermore, we know that three arias and one chorus were composed not by Rossini himself but by his collaborator, Luca "the cripple" Agolini. 
Download this short Pdf-guide. Print it, fold it, and keep it in your pocket as a help when you're at the Opera. Please keep your phone turned off when inside the theater.