Mezzo-soprano - The wicked...
Mezzo-soprano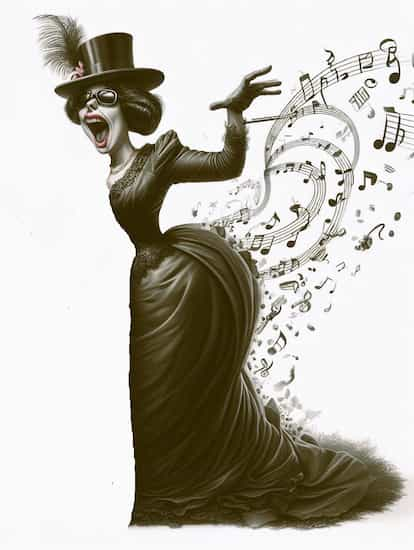 The Mezzo-soprano is the middle voice in the female voice family. The word mezzo is Italian and means half. So, a half soprano which sits between the soprano and the contralto. Much like the middle male voice, Baritone, it is a late arrival. It entered the opera stage in the 1800s.
In the chorus, it corresponds to Alto 1 in English-speaking countries. Just like baritone corresponds to Bass 1.
But why did they feel the need to invent a whole new voice?
Well, the voice existed already. All that happened was that it got its own name. In fact, as time went by from the middle ages, the different voice types got ever more separated and distinguished. Not always with a good result.
For all you young singers out there, there are two warnings I have to issue:
The classification of a voice or the distinction between different voice types is never, ever universal or even very scientific. It very much depends on preferences, size of and the acoustics in the theater, personality, etc… And it has changed a lot during the centuries.
Labeling a voice this or that has to be done in person. Reading an article like this one can never substitute a voice coach, a colleague, or even a friend. And even they cannot really see what is inside of you, how you feel, what is comfortable and what is not. You are your voice's greatest safeguard. 
The color of a Mezzo-soprano. 
The voice should be rounder, fuller, and heavier than the soprano. Depending on the type it might be a little stronger. Put simply, the Mezzo-soprano should sound like gold or bronze, while the soprano should sound like silver.
Much like all voice types, there is an eternal contradiction between volume and roundness. 
The bigger (fuller) the voice, the rounder, smoother, and less focused the sound is.
The rounder and smoother the voice is, the less volume it has.
The perfect Mezzo-soprano has a natural deep color. When training, the voice achieves the famous vocal ring. At the end what you get is a beautiful dark sound but with a pleasant metallic timbre. 
What sometimes happens is,  that a lighter voice, a soprano for some reason, decides to sing as a darker voice, a Mezzo-soprano. To achieve darkness and fullness, she has to lower the larynx in an unnatural way, and that prevents the formation of the vocal ring. What you get is a dark, I would say less beautiful, voice with a lack of volume.
You should always, always sing with your own voice. 
The range of a Mezzo-soprano.
Talking about range is very different for female voices compared to the male ones. While the range of the male voice is more absolute, because of the way a man uses his vocal cords, the female voice is more flexible. 
Traditionally the range of middle female voice is from A3 to A5.
While many can go well above the high C (C6), they generally are more comfortable in a lower range. Because the voice is heavier, and there is supposedly more mass involved, they prefer a lower average pitch (tessitura). 
The high notes of a Mezzo-soprano are generally fuller and stronger than those of a soprano. What it means is that the perceptive composer lets her express anger or desperation on her high notes. In contrast, some soprano roles have very high notes in pianissimo (very weak) expressing love, bliss, etc. 
Another very important thing is that the voice should be homogeneous… It should sound more or less the same throughout the full range. Of course, the singer interprets and changes the timbre according to the score, but she should always sound like a Mezzo-soprano. It is not acceptable to sound like a Contralto in the lower register, just to change into a Soprano at the higher notes. This is a defect you should be aware of if you are still training. 
The roles for the Mezzo-soprano.
All this should be seen as a totally objectionable generalization. The variations are without limits and there is every kind of character and role for a good Mezzo-soprano to dive into.
Still, this fuller and heavier middle voice is perfect to portray a few characteristic personalities. First of which is the wicked antagonist of the good, and virtues soprano. The darker timbre makes her motif questionable and sinister. This is more typical in Italian operas from the 1800s (Eboli in Don Carlos, Amneris, in Aida…). In French operas, one could notice more of a main character. Still, possibly with more dubious intentions, but still the one the tenor falls in love with (Carmen, Dalila in Samson et Dalila… ).
The different types of Mezzo-sopranos.
Warning! This is not an absolute classification, and I probably do not agree with some of you. How the voice is supposed to be handled, and what singer should sing this or that repertoire is a constant argument among experts. These are my thoughts, and I acknowledge any contradicting opinion. Still, at the end of the day, a singer can cross over any boundary as he/she finds suitable.
I also apologize for not mentioning many great artists who undoubtedly deserve to be on my, or anybody's list.
Lyric Mezzo-soprano.
The lyric Mezzo-soprano is the most frequent voice type. It should have a smooth, sensitive, and at times lachrymose quality. The hights should be full and rich. 
Example of roles for Lyric Mezzo-soprano.
Adalgisa,

Norma

(

Bellini

)

Carmen,

Carmen

(

Bizet)

The Composer,

Ariadne auf Naxos

(

Richard Strauss

)

Hänsel,

Hänsel and Gretel

(

Humperdinck

)

Marguerite,

La damnation de Faust

(

Berlioz

)

Nancy,

Albert Herring

(

Britten

)

Nicklausse,

The Tales of Hoffmann

(

Offenbach

)

Octavian,

Der Rosenkavalier

(

Richard Strauss

)

Puck,

Oberon

(

Weber

)

Sesto,

Giulio Cesare

(

Handel

)

Siebel,

Faust

(

Gounod

)

Sorceress,

Dido and Aeneas

(Purcell)

Suzuki, Madama Butterfly

(

Puccini

)
Example of famous Lyric Mezzo-sopranos.
Giulietta_Simionato

Janet Baker

Elina Garanča

Teresa Berganza

Anna Caterina Antonacci

Olga Borodina

Marilyn Horne

Frederica von Stade
Dramatic Mezzo-soprano.
The dramatic mezzo-soprano is dark and powerful and could resemble the Contralto in character. It definitely should be voluminous in the middle and lower register. Good heights are less important than for the lyric voice. 
Example of roles for Dramatic Mezzo-soprano.
Azucena,

Il trovatore

(

Ver

d

i

)

Amneris,

Aida

(Verdi)

The Gingerbread Witch,

Hänsel and Gretel

(

Humperdinck

)

Dalila,

Samson et Dalila

(

Saint-Saëns

)

Eboli,

Don Carlos

(Verdi)

Fricka,

Das Rheingold

,

Die Walküre

(Wagner)

Laura,

La Gioconda

(

Ponchielli

)

Marina,

Boris Godunov

(

Mussorgsky

)

Ortrud,

Lohengrin

(Wagner)
Example of famous Dramatic Mezzo-sopranos.
Fiorenza Cossotto

Fedora Barbieri

Dolora Zajick

Shirley Verret

Grace Bumbry

Christa Ludwig

Elena Obraztsova
Agnes Baltsa… Yes I know. Some of you would like to put her somewhere else.
Coloratura Mezzo-soprano.
Like the lyric voice, the coloratura mezzo-soprano should have a warm lower register. But as these roles also leap far into the upper register with highly ornamented coloraturas, the voice needs to be fast. Ideally, she manages to keep the dark timber even going up to the high notes, but sometimes you have to compromise. 
Example of roles for Coloratura Mezzo-soprano.
Angelina (Cenerentola), La Cenerentola (Rossini)
Ariodante, Ariodante (Händel)
Baba the Turk, The Rake's Progress (Stravinsky)
Griselda, Griselda (Vivaldi)
Isolier, Le comte Ory (Rossini)
Julius Caesar, Giulio Cesare (Händel)
Orsini, Lucrezia Borgia (Donizetti)
Romeo, I Capuleti e i Montecchi (Vincenzo Bellini)
Ruggiero, Alcina (Händel)
Rosina, The Barber of Seville (Rossini)
Tancredi, Tancredi (Rossini)
Example of famous Coloratura Mezzo-sopranos.
The coloratura Mezzo-soprano was not as rare a hundred years ago as it is today. Furthermore, in the old days, agility was more generally studied. Therefore most Mezzo-sopranos of the other types could sing reasonably fast. In modern times, the coloratura Mezzo-soprano is becoming increasingly rare. 
Cecilia Bartoli
Vivica Genaux
Julia Lezhneva
Teresa Berganza
Joyce DiDonato