Soprano
The Soprano is the highest of the female voices. It is also the most common. And maybe that's the reason why there are so many subcategories… First, there are the usual Lyric, Dramatic, and Coloratura. For some reason, the vocal schools felt it necessary to increase the number of specializations, so more types were introduced.
Between dramatic and lyric, there is a type named after the Italian word for pushed, Spinto. And then, it is very common to combine these terms into Lyric-spinto, Lyric-dramatic, etc. Furthermore, we have voice types named after famous singers. Falcon Soprano, for example, is a dark and powerful voice that has excellent heights and good agility as well. Or singers aimed at a special type of opera, Wagner soprano, or at a determined character on stage, Soubrette. 
I am not completely convinced that all that labeling is useful. Neither do my colleagues in this category seem to feel it to be required. Most singers jump frequently between the different types anyway. 
In the chorus, Sopranos are divided into first and second, with Soprano 1 singing the highest score.
For all you young singers out there, there are two warnings I have to issue:
The classification of a voice or the distinction between different voice types is never, ever universal or even very scientific. It very much depends on preferences, size of and the acoustics in the theater, personality, etc… And it has changed a lot during the centuries.
Labeling a voice this or that has to be done in person. Reading an article like this one can never substitute a voice coach, a colleague, or even a friend. And even they cannot really see what is inside of you, how you feel, what is comfortable and what is not. You are your voice's greatest safeguard. 
The color of a Soprano.
Of course, the color should be light, smooth, and pleasant. It is the highest voice, so it should be like drops of rain on top of everything. Having said that, there is more variation among this highest voice than in any other voice type. And so some Sopranos depart quite far from the clarity and silvery shade that is so typical. 
The normal lyric Soprano should have good volume and flowing legato. She should be able to sing very high notes with ease and still have power enough to compete with the orchestra in the middle range. The standard color of a standard lyric voice must have a certain depth to it though. There should be something of the Mezzo-soprano gold in the voice, otherwise, it's not a lyric, but a lighter voice. 
If the voice is more towards the dramatic character, it is nice if it is even darker in color. The problem with that is that there can be a contradiction between volume and roundness. The rounder and deeper the voice, the less vocal ring, and consequently less volume. Not always or necessarily, but this particular technical conflict exists. Some truly dramatic Sopranos have a really powerful vocal ring and may have even more clarity than a lyric… Steel instead of silver.
On the other end of the spectrum, we find the coloratura Soprano. That is a very high, agile, and fast voice, specialized to do all the required acrobacy that comes together with the label. Unlike the coloratura Mezzo, and the coloratura Contralto, the highest voice doesn't really need to worry about the roundness. It is acceptable to have a small, narrow sound, even if I personally would prefer a bit of the lyric timbre to it. 
And this voice doesn't need any particular volume in the high register. Depending on the physical facts about acoustics, singing very high will cut through the orchestra anyway.
The range of a Soprano.
Talking about range is very different for female voices compared to the male ones. While the range of the male voice, because of the way a man uses his vocal cords, is more absolute, the female voice is more flexible. 
Traditionally, the range of a Soprano is from C4 to C6. A dramatic voice should have a few good notes lower, Bb or even A. A lyric voice could stop at C6, but in some roles, you would score many extra points if you could go a tone higher. The coloratura has no real limit upward. 
The voice should be perceived as natural and comfortable. For the listener, no sound should be harsh or strained. For the singer, although the voice should always be supported, the range should feel natural and relaxed. If you need to work too hard for the high notes, or you struggle with the low ones, the audience probably notice that too, and you should consider changing the repertoire.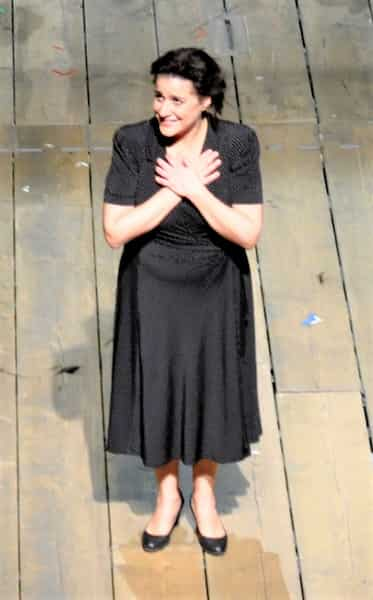 I'd like to point out two dangers that are especially troublesome for the Soprano voice. 
Singing very fast needs training, but also a predisposition. If you don't have it, let it be. Sing long, slow notes instead. 
A lighter voice may not be strong in the central register. So, train your voice where it is comfortable instead of pushing it to sing strong low notes with force.
Many have ruined their career by singing too heavy roles too early, or by singing too technically demanding parts too soon. The vocal cords of the Soprano are small, and the way in which they produce the sound puts a lot of effort into the board of the cords. 
The roles for the Soprano.
The variations in the Soprano fach are big, and, in fact, most singers perform roles within many of these different types without problems. As always, the boundaries are in no way absolute, or even very easy to define. 
So, the highest female voice is the victim. That's maybe not always the case, and it's not because the silvery tinge is particularly adapted to paint the victim. No, it's simply because she is the leading voice. In the chorus, the Sopranos often carries the melody. Subsequently, on stage,  she is the main character.
And at least in the Classical and Romantic periods, the main female character was portrayed as a victim. She was often, not always, the virtuous, beautiful young girl who died at the end or lost her lover, the tenor, who died at the end. 
Sometimes she is witty and cunning and outsmarts her male counterparts, but that is only if it is a funny play… An Opera buffa. Still, it all depends on what type of story is to be told. 
There are also very often more Sopranos than other female voices. That could be because there simply are more high voices than low voices on the market. Many supporting roles are not bound to the voice type anyway. The Emperor of China in Turandot can be done, and has been done by almost anybody, tenors, and basses alike.
The different types of Sopranos.
Warning! This is not an absolute classification, and I probably do not agree with some of you. How the voice is supposed to be handled, and what singer should sing this or that repertoire is a constant argument among experts. These are my thoughts, and I acknowledge any contradicting opinion. Still, at the end of the day, a singer can cross over any boundary as he/she finds suitable.
I also apologize for not mentioning many great artists who undoubtedly deserve to be on my, or anybody's list.
Coloratura/Light Soprano.
There is a difference between these two voices, but it's not well defined so I put them together here. Practically, they have the same timbre, very light, clear, and lofty. The coloratura needs exceptional agility, particularly in the high register. 
Example of roles for Coloratura/Light Soprano.
Adina,

L'elisir d'amore

(

Donsizetti

)

Almirena,

Rinaldo

(

Händel

)

Amina,

La sonnambula

(

Bellini

)

Queen of the Night,

The Magic Flute

(

Mozart

)

Cunegonde,

Candide

(

Bernstein

)

Dorinda,

Orlando

(

Händel

)

Elisa,

Il re pastore

(

Mozart

)

Gilda,

Rigoletto

(

Verdi

)

Giulietta,

Romeo e Giulietta

(

Gounod

)

Léïla, The Pearl Fishers

 (

Bizet

)

Lucia,

Lucia di Lammermoor

(

Donizetti

)

Marguerite,

Faust

(

Gounod

)

Marie, La fille du régiment

 (

Donizetti

)

Olympia, The Tales of Hoffmann

(

Offenbach

)

Oscar,

Un ballo in maschera

(

Verdi

)

)
Example of famous Coloratura/LighSopranos.
Luciana Serra

June Anderson

Natalie Dessay

Mariella Devia

Eva Mei

Mady Mesplé

Mado Robin

Lily Pons

Jessica Pratt

Desirée Rancatore

Erna Sack

Bidu Sayão

Rita Streich

Diana Damrau

Joan Sutherland… Though she is maybe more of a dramatic coloratura.
Lyric Soprano.
This is the standard, go-to voice when it comes to the most famous romantic operas. More than anything else, it needs vocal beauty and a good drive. To that, a certain strength in the middle register. 
Example of roles for Lyric Soprano.
Liù, Turandot (Giacomo Puccini)
Lulu, Lulu (Alban Berg)
The Marschallin, Der Rosenkavalier (Richard Strauss)
Magda, La Rondine (Puccini)
Micaëla, Carmen (Georges Bizet)
Tatyana, Eugene Onegin (Pyotr Ilyich Tchaikovsky)
Bess, Porgy and Bess (George Gershwin)
Cio-Cio-San Madama Butterfly, (Giacomo Puccini)
Mimì La bohème, (Giacomo Puccini)
La Contessa Le nozze di Figaro, (Wolfgang Amadeus Mozart)
Pamina Il flauto magico, (Wolfgang Amadeus Mozart)
Leonora La forza del destino, (Giuseppe Verdi)
Example of famous Lyric Sopranos.
Montserrat Caballé

Magda Oliveroi

Licia Albanese

Renata Scotto

Barbara Frittoli

Victoria de los Ángeles

Renée Fleming

Mirella Freni

Cecilia Gasdia

Catherine Malfitano

Elisabeth Schwarzkopf

Adriana Maliponte

Kiri Te Kanawa

Katia Ricciarelli

Gundula Janowitz

Daniela Dessì

Anna Netrebko
Dramatic Soprano.
The dramatic timbre should have much of the qualities of a lyric voice but with more power in the lower and middle register. The high notes will pass through the orchestra anyway, but as these roles have a lower tessitura (average pitch) she will find herself struggling to be heard when singing lower notes. She will need a bit more steel in her voice. 
Example of roles for Dramatic Soprano.
Abigaille,

Nabucco

 (Giuseppe Verdi)
Ariadne, Ariadne auf Naxos (Richard Strauss)
Salomè, Salomè (Richard Strauss)
Elektra, Elektra (Richard Strauss)
La Gioconda, La Gioconda (Amilcare Ponchielli)
Santuzza, Cavalleria rusticana (Pietro Mascagni)
Turandot, Turandot (Giacomo Puccini)
Floria Tosca, Tosca (Giacomo Puccini)
Minnie, La fanciulla del West (Giacomo Puccini)
Lady Macbeth, Macbeth (giuseppe Verdi)
Brünnhilde, Die Walküre Richard Wagner)
Example of Dramatic Sopranos.
Birgit Nilsson

Éva Marton

Jessye Norman

Giannina Arangi Lombardi

Gina Cigna

Maria Jeritza

Lotte Lehmann

Caterina Mancini

Maria Caniglia

Rosa Ponselle

Zinka Milanov

Maria Guleghina

Anita Cerquetti
Agile Dramatic Soprano.
Lastly, I just want to name one of all these subcategories. This one comes from the Italian label Soprano Drammatico d'Agilità. It is a dramatic voice that also has exceptional height and agility that normally is out of reach for a heavy voice like the Soprano Dramatico. Many of the most famous Verdi roles are best suited for this category. But these performers are so rare in today's opera market that normal lyric or dramatic voices are used in most cases. Examples of great singers in this category are: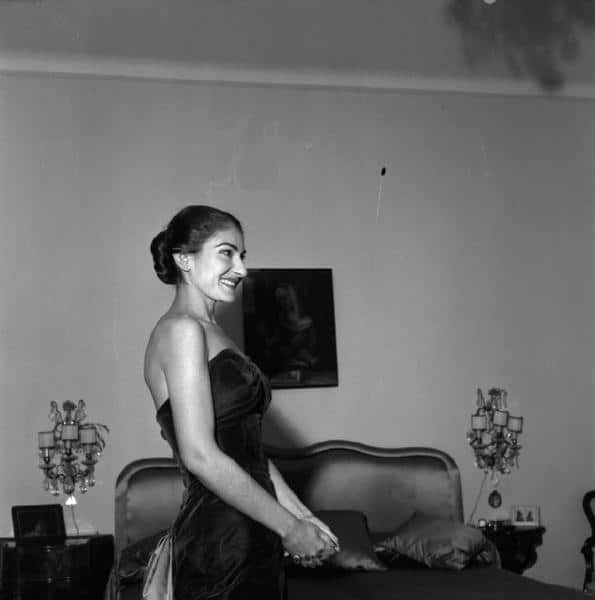 Maria Malibran
Giuditta Pasta
Leyla Genzer
Maria Callas… Although she would probably fit in any category.