Il Barbiere di Sevilla - The Barber of Seville
The background
In 1772 Pierre Beaumarchais wrote a comedy called Le Barbier de Séville ou la Précaution inutile (The Barber of Seville or The useless precaution). The play immediately, or almost immediately (Beaumarchais had to rewrite a few scenes…) became a huge success. So big, in fact, that he soon started writing a second play, followed by a third. These are in chronological order: The Marriage of Figaro and The Guilty Mother. 
Maybe you haven't heard of the last one, but The Marriage of Figaro was turned into one of the most famous and performed Operas of all time, by the genius Wolfgang Amadeus Mozart in 1786.
So, Rossini's Opera is actually a prequel to Mozart's even if it was written 30 years later. We see the same characters… Figaro, Almaviva, Bartolo, and Rosina. But we have to back up a few years to a time when the Count and Rosina aren't yet married.
Premiere – February 20, 1816, Teatro Argentina, Rome, Italy 
Composer – Gioachino Rossini
Librettist – Cesare Sterbini
Running Time – ca. 2 hours and 30 minutes, plus Intervals
Two Acts
Ouverture – 7 minutes
Act 1 – 1 hour and 30 minutes or less
Act 2 – 50 minutes
In Italian
Main characters
Count Almaviva: Light Tenor. Young, wealthy nobleman. In love with Rosina.
Bartolo: Bass. An old a quite boring doctor. Tutor of Rosina, who he intends to marry.
Figaro: Baritone. The Barber of Seville, and the Factotum… The guy who knows everybody and who can fix anything.
Basilio: Bass. Singing-teacher. Priest. Friend of Bartolo, but really a friend of whoever can provide anything for his benefit.
Berta: Soprano. Bartolo's housekeeper.
Fiorello: Baritone. Almaviva's servant
Based on Le Barbier de Séville ou la Précaution inutile (The Barber of Seville, or The Useless Precaution) by Pierre Beaumarchais. More about that here.
Download this short Pdf-guide. Print it, fold it, and keep it in your pocket as a help when you're at the Opera. Please keep your phone turned off when inside the theater.
Background – The Opera The Barber of Seville is set in…
Seville.
Count Almaviva is very much in love with Rosina, and soon we will learn that also her heart is pounding for her young admirer. He has disguised himself as a student by the name of Lindoro. This is the first of his many disguises, all to be able to get close to her without raising suspicion… And of course, to win her heart without her knowing about his fame and fortune. A classical situation in comedy. 
Would you like to visit Seville?
Would you like to see the sites where the Opera takes place? 
More issues…
There is one big problem, though. Rosina's tutor, Don Bartolo, is keeping her well closed up. She is hardly able to contact anybody outside of the household. The Governess, Berta, is constantly surveilling the young girl. Furthermore, Bartolo himself has decided to marry Rosina once she has reached the age. The reason for this is not so much that she's a beautiful young woman, but more because she has a considerable dowry.
One significant part of the comedy is the fact that money is the main goal for almost everybody… Not love, not moral or righteousness, but the glimmering, shining gold. Only Almaviva and Rosina are driven by sincere emotions, but on the other hand, they are the only ones who have more than enough wealth to not have to worry about it.
The Barber of Seville is written in the Italian musical tradition with Arias, Ensembles, and recitatives. The recitative corresponds to spoken dialogue in a musical for example. Most of the gags and jokes are set there, just as the farce of a musical is concentrated in the dialogue.
Plot
Ouverture
First Act 
Scene 1 – The square in front of Bartolo's house. 
Fiorello, Almaviva's servant, arranges a bunch of slightly off-tuned musicians for a Serenade for Rosina at dawn. The Count sings…
  –  Ecco, ridente in cielo (There, laughing in the sky, the beautiful dawn appears…).
But, with no effect. He pays off the musicians, who make a lot of noise as they thank him, making his efforts to stay incognito more difficult. It's a bad start to the day…
Now there is one of Opera literature's most famous introduction-Arias. From a distance, we hear…
  –  La ran la lera la ran la là…
The Barber of Seville enters and sings his super-famous Largo al Factotum. This is probably the most well-known baritone-Arias ever, and a mandatory encore at any Baritone recital. 
Robert Merrill: Largo al Factotum
  –  Ready to do everything, night and day. Always present, always on the run…
Factotum literary means do-everything. And Figaro is the kind of barber who knows everybody, and who has a solution for anything, from love-problems to money-issues and revenge.
So, they meet. They already know each other and when Figaro hears about Almaviva's heartaches, he decides to help him, in exchange for money, obviously. 
Rosina comes out on the balcony. Cunningly, she drops a part of a play she's rehearsing (… called The useless precaution). After some hiding in the shadows, opening and shutting doors, the note finally arrives in the hands of the Count. He reads…
  –  Bartolo is leaving shortly. You must find a way to tell me about your intentions. Know that I am prepared to do what it takes to break free from this tyrant. 
When Bartolo leaves, a phrase slips his mouth… He intends to marry her today, and the whole situation gets much more urgent.
Almaviva sings a second Serenade.
  –  Se il mio nome saper voi bramate… 
Rosina answers from inside the house.
Then, the two companions outside sing a duet.
  –  All'idea di quel metallo (At the idea of that metal…). (The metal is Gold if that wasn't clear enough. And it's obviously Figaro who declares his fascination with it..)
It's a long scene accompanied with typical Rossini-up-tempo-strings. Figaro suggests a new disguise. This time as a soldier… A drunken soldier. 
In the 18th century in Spain, normal citizens had to quarter military personnel in times of peace. They had to have them living in their house, sleep in their beds, eat their food. It's very easy to recognize that this wasn't very popular. 
Scene 2 – A room inside Bartolo's residence.
Now it's Rosina's turn to fire off some vocal wonders. She sings…
  –  Una voce poco fa…
She sings about her love for Lindoro, whom she actually never met. She only knows him by voice. She writes him a message.
Figaro comes by but hides when Bartolo enters.
There could be a short scene with Berta and Ambrogio, Bartolo's servant, but it's often omitted.
Now Basilio enters. If you know him as a tenor from Mozart's The Marriage of Figaro, he is now a bass. And it should be a reasonably deep bass. He sings his famous…
  –  La calunnia (The Slander… is a soft breeze…)
Robert Lloyd: La Calunnia 
This is a genius piece. It starts out soft and slow, just like the gossip, and the calumny when you start spreading them. But once they start flowing, the force increases exponentially until even the lies become solid truths. The Aria grows into a malicious, satanic glorification of our small-minded everyday defamation, and scandalmongering.   
The plan is to destroy the Count (…who Basilio has identified as Rosina's admirer.) with ill-minded gossip.
They leave, and Figaro and Rosina enter. He gets the note from her to give to Lindoro/Almaviva and leaves.
Bartolo enters and starts to interrogate his pupil. He sings…
  –  A un dottor della mia sorte (A doctor like me… )
He tries to keep a severe attitude and force her to obedience, but he's outwitted by far. Rosina isn't the subordinate, compliant type.
————-
And now, the drunken soldier enters.
After a short while Rosina, Berta, and Basilio join them. The Count is able to reveal his true identity (That of Lindoro… She still has no idea who he really is.) to Rosina and slips her a written piece of paper. Bartolo sees it but is again outwitted by his adversaries. 
Bartolo wants the soldier out of his house, and a rumorous argument attracts first Figaro, then the whole Police-force.
The police marshal tries to shed some light on the situation. He first decides to arrest the soldier, but when the Count reveals his true identity, he steps back. Almaviva stops him as he's attempting to bow for him. 
The Act finishes with a marvelous finale…
  –  Fredda/-o ed immobile, come una statua… (Cold and still, just like a statue…)
It's a typical Rossini finale. It starts in a slow, static pace expressing astonishment over what's happening. But inch by inch it works its way up to a high tempo final part. The confusion is total. The only one on top of the situation is, of course, the barber of Seville.
Second Act – Another room in Bartolo's house. This one with a piano.
Almaviva appears in yet another disguise. This time he is Don Alonso, Basilio's substitute, as the Music Maestro wasn't feeling well. To gain Bartolo's trust, he shows him a note from Rosina and tells him that Lindoro is Almaviva's servant. He then offers to talk to the girl during the singing lesson, and convince her of the Count's dishonorable intentions. Bartolo takes the bait.
Rosina enters and immediately recognizes Almaviva/Lindoro.
Rossina sings Contro un cor che accende amore… (Love towards Lindoro), and then Bartolo sings Quando mi sei vicina amabile Rosina… (Love towards Rosina).
Figaro enters to shave Bartolo. 
with a series of cunning moves, the three friends manage to steal the key that opens the window bars on the balcony.
To everyone's surprise, Don Basilio suddenly shows up, fit and healthy. He enters for Rosina's singing lesson… Not good!
Obviously, they have to come up with something fast to explain Basilio's sudden appearance. Rossini resolves this with a beautiful ensemble, where Figaro, the Count, and Rosina tries to convince Basilio that he is sick… Scarlet fever.
They send him away with another sweet ensemble…
  –  Buona sera, mio signore. (Good night, dear sir)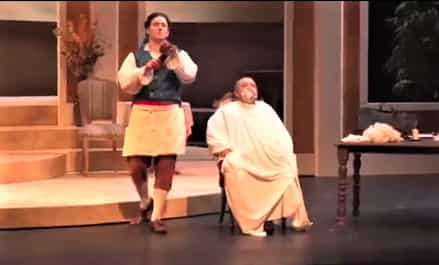 Now there's another marvelous scene… Figaro is shaving Bartolo, keeping his head turned the other way. Almaviva is trying to get a message through to Rosina while teaching her to sing…
  –  At midnight, we will come for you…
But Figaro is distracted for a moment, and Bartolo gets up. He hears…
  –  …che il vostro foglio, perché non fosse inutile il mio travestimento… (…that I might succeed in my disguise…)
And suddenly he gets it, why this Don Alonso is here and why Figaro was so eager to shave him. He throws them out of the house.
The conclusion
Berta, the housekeeper sings her only Aria…
  –  Il vecchiotto cerca moglie (The old man seeks a wife)… (What is all this Love-thingy? that makes everyone go mad… It is a universal evil… )
Bartolo tells Basilio to hurry and get the notary for his and Rosina's marriage. He then shows Rosina the letter she wrote to Lindoro and convinces her that this is proof of Lindoro's dishonesty and that he's only toying with her on Almaviva's behalf. This time it's Rosina who bites the hook. 
Here's a short orchestra piece that illustrates a passing storm.
And finally, Figaro and Almaviva enter through the balcony door (….to which they have the key, they stole in the shaving-scene.) Rosina is very disappointed in Lindoro but when she understands who he really-really is, she melts like butter. They try to leave but discover that the ladder they used to get up on the balcony has been removed. (Bartolo has moved it.)
At this point, Basilio enters together with the notary. Figaro seizes the moment and tells him to marry his nephew with the nephew's fiancee. 
So, when Bartolo arrives with the constables to arrest them, the game is over. Almaviva can reveal his true-true identity. He's already married Rosina, he has paid off Basilio, and he has given Figaro his compensation for all of his efforts. Bartolo is defeated but still kind of content because the Count writes off the dowry, that Bartolo otherwise would have to pay for Rosina.
The Opera ends with a big finale, Rossini-style.
  –  Amor e fede eterna… (Love and eternal trust…) 
Things to look out for.
First Act
11 minutes  –  La ran la lera… la ran la la… Largo al Factotum, The Barber's big Aria
23 minutes  –  Se il mio nome saper voi bramate. Almaviva's second Aria with only guitar
36 minutes  –  The second part begins with Rosina's big Aria Una voce poco fa…
46 minutes  –  La calunnia… Basilio's Aria about the slander.
60 minutes  –  Un dottor della mia sorte… Bartolo's Aria
1 hour 10 minutes  –  The drunk soldier enters. 
1 hour 20 minutes  –  The guards enter and the finale begins.
Second Act
1 minute  –  Don Alonso (Almaviva) enters.
7  minutes  –  Rosina's second Aria. Check if she's singing Contro un cor che accende amore, or of she's changed it for something else.
16 minutes  –  Don Basilio enters
29 minutes  –  Berta: Il vecchiotto cerca moglie…
42 minutes  –  Two short trios, Figaro, Almaviva, and Rosina. Dolce nodo… and then Zitti, zitti, piano,piano, when theùy discover the missing ladder.
About the Composer.
Rossini wrote The Barber of Seville in just three weeks. Although he was very aware of the magnificent play by Pierre Beaumarchais, and that it would make an excellent opera buffa, comic opera, he had previously never more than just begun working on it. When Francesco Sforza Cesarini, Prince of Genzano, one of the small independent towns in the neighborhood of Rome, commissioned an Opera, he knew what story to use. 
He already had a few ideas, and we know that it was common to reuse other already completed works. But the libretto was ready at the end of January. And on February 20, the Opera premiered. That's three weeks… Including rehearsals. 
You might think that Rossini was a fast writer… And you'd be absolutely right.
He was only 23 years of age when the Barber of Seville was ready, but he had already composed 16 operas. In two years alone 1812 – 1813, he wrote nine… While also conducting, performing, and studying around Italy. He was a volcano of productivity.
Someone might say that Rossini was a master of the art of re-using. And that too would be absolutely correct. Rossini frequently elaborated prior musical ideas to new settings (Something that was very common by everybody until around mid-1800), but he still was a swift writer.
One example is the overture. 
When composing an Opera, the overture was often left to the very end of the writing process. After all the pages were written and printed out to the musicians to start their very short rehearsals before it had to go on stage… The composer had to wrap it all up in a catchy overture. And if, as the case often was with Rossini, there wasn't enough time, then you just had to reuse something old. 
In the case of The Barber of Seville, Rossini took the Overture from his own Elisabetta Regina d'Ingilterra from just four months before and copied it right off as it was. Elizabeth, Queen of England is not a comedy, but a serious opera be it with a kind of happy ending. Still, the music fits perfectly to the Barber's comical style. It is one of the most famous overtures of all time and is very often played at concerts, as a free-standing piece.
Something about the very first premiere.
We've already heard about Mozart's adaptation of The Marriage of Figaro. But there were many others, inclined to use the excellent outline of Beaumarchais' plays. Especially, The Barber of Seville was used in many versions, and in 1816 there were more than ten different Barbers touring the European theaters. The most famous by far was the opera by Giovanni Paisiello, a much older and more established composer than Rossini. This was such a big issue for the young composer and his fellow librettist that they practically put an apology in the libretto. They asked their more authoritative colleague forgiveness for having had the courage to use the same text.
Despite this and every other precaution, the evening of February 20, went to the musical history as one of the worst fiascos ever. People were shouting, whistling, and laughing… When Rossini made his first entrance to conduct the overture, the whole theatre broke loose in a cascade of chuckling. His brand new suit, sewed up for the occasion in a brown hue, was ridiculed in the worst possible way. But the blame shouldn't fall to hard on Paisiello, and not even on his supporters. There were other people too, who would benefit from a negative response. 
Even during the performance things went wrong. 
When the tenor, Manuel Garzia, was supposed to start his second aria of the first act, playing the guitar himself, all of the cords snapped. He remained for several moments without being able to find the right note.
When Don Basilio, Zenobio Vitarelli, made his first entrance, he fell and broke his nose. He continued performing but bled on things and people on stage throughout the evening.
In the third act, a black cat walked over the stage. Rosina, Geltrude Righetti-Giorgi, who was very superstitious, ran out and it took a long time before they could convince her to continue in front of the now hysterically laughing audience.
Already the day after, the reaction from the public was very different. And soon the enthusiasm was overwhelming. The Barber of Seville is today Rossini's most famous as well as his most played Opera.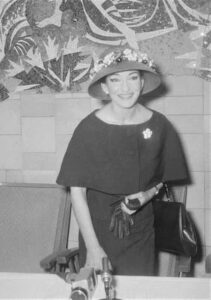 Rosina
The voice of Rosina is an interesting subject. She is listed as Contralto, which today would be the lowest of the female voices. Back in Rossini's days, the voices were a little different, though. Strong women with dark voices like Carmen and Eboli weren't conceivable. They came later. Rosina needs agility above all else.
Today many dark voices just aren't trained to do all the fast notes that are in the score. That is why Rosina is sometimes casted with a soprano instead of a mezzosoprano… Yes, the outstanding Maria Callas has also sung the role. In an incomparable way. Even light sopranos (Soprano leggero) sing the role. The fist aria "Una voce poco fa…" is often transposed one tone up. 
The voice-type has changed during the centuries and there's no right answer to how it's supposed to be. It's a matter of choice. What's important to understand is that the Contralto of Rosina has very little to do with later contraltos like Erda in Das Rheingold (Wagner) or La Cieca in La Gioconda (Ponchielli) (Please check them out to get an idea…)
The Barber of Seville from La Scala in Milan, Italy, 1929.  Rosina is sung by Mercedes Capsir
Fun Facts
Warner Bros.-Looney Tunes made a short movie in 1950 called the Rabbit of Seville. The music is the overture with some elaborations… And the star is of course Bugs Bunny. 
Rossini's Arias are full of coloraturas with scales and chords up and down usually in a high tempo. It was common for good singers to improvise difficult passages on the simple melody that was written. Rossini wanted to be able to control what the singers actually did, so he wrote down the coloraturas that he preferred. It was a question of him determining the notes that otherwise would be up to the interpreter to decide. Other music from this period often expects the same type of embellishments, but invented by the singer.
The very first score had a different name for the Opera. All in an attempt to limit controversy with Paisiello. It was called "Almaviva or The Vain Precaution".
Rosina's second aria, at the singing lesson with Don Alonso, is actually quite problematic if Rosina is sung by a soprano. The average height of the score, the "tessitura", is very low. And as it doesn't have any real impact on the story, it's sometimes sostituted for something else of the singer's liking. This was more frequent in the 1800s  and early 1900s. Still, when Jessica Pratt debuted at Arena di Verona as Rosina in 2015, she threw in The Aria "Deh, torna mio bene" with variations by Heinrich Proch. This is an extremely difficult equilibristic concert-Aria. Some of the more pedantic critics weren't happy. But the truth is that she was in line with a very old tradition. A tradition with which even Rossini was, even if somewhat resistant, in accordance.
Download this short Pdf-guide. Print it, fold it, and keep it in your pocket as a help when you're at the Opera. Please keep your phone turned off when inside the theater.